World War 1 was a very special war, with entire armies staying in place for months or even years. This rather boring situation and lots of metal from burst shells laying around resulted in production of jewelry by the soldiers in the trenches.
Pôle Bijou is a center for excellence in jewelry in the french Lorraine region. In 2017, they made their contribution to the commemoration of WW1 with an open call for jewelry related to the creation of jewelry related to this conflict – by the soldiers themselves as well as by craftsmen and even factories far from the actual trenches. The city of Baccarat where Pôle Bijou is located right behind the Vosges mountains and was therefore very close to the battle zone.
We studied WW1 and created 5 jewels for this open call that were accepted for the exhibition. Here are the 5 models and why we created them:
The Memory Poppy
Poppies « pop up » very fast when earth is moved. They would blossom within a few weeks on frech tombs. Seeing this happen, canadien military physician John McCrae wrote a poem on the view of red poppies on his comrades graves that made the poppy the memorial symbol for WW1 casualties. On november 11, thousands of paper poppies flower on memorial sites all around the british Commonwealth. The Memory Poppy reproduces the shape of this paper poppy , with videos full of poppies and other WW1-related objects, such a a bottle of Coca Cola (yes, it first came to Europe with the american soldiers!).
2. The Trenches Vijou
WW1 initiated in a period of intense transformation in the art world. Abstraction was a big issue and cubism had just entered the market. Right during the 4 years of the conflict, a couple of artists that were lucky not to be drafted for war switched to fully abstract art: Wassily Kandinsky, Piet Mondrian, Hans Arp to mention just the most important.
And in a very funny manner, the aerial photographs of the trenches look very much like some kind of abstract land art: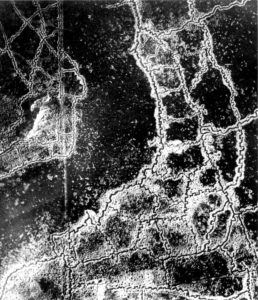 We mixed this funny land art with the strict abstract painting of the De Stijl movement around Piet Mondrian on the Trenches Vijou: